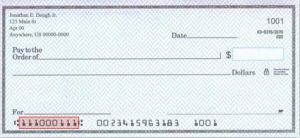 PETERSBURG, KY (FOX19) – A Northern Kentucky woman is warning that scammers are using fake companies and fake checks to try and steal money.
Lisa Koors said a piece of priority mail showed up in her Petersburg mailbox, and she discovered that what was inside was part of a scam.
"I honestly think people would've fallen for this. I really do, and that's why I shared it because I didn't want anyone falling for it," said Koors.
Inside the envelope, Koors said, was what looked like a cashier's check and a typed letter. The note told Koors that she had been selected to be a "secret shopper" for any Walmart store. It told her to deposit the included "check," which was for more than $2000, and then text a phone number for further instructions.
Koors said she called the credit union, out of Florida, that was listed on the check to find out if it was fake.
"He [credit union rep] said 'what's the check number?' and I told him, and he said 'that's fraudulent," said Koors.
The so-called company that sent the counterfeit check is called "Retail Impact." The website claims that "as a Retail Impact mystery shopper, you'll get paid to eat and shop for free at your favorite brands."
"A lot of people would fall for it," said Koors. "My husband, in fact, said he would've taken it to the bank and cashed it."
There was an email address listed on the document that was sent to Koors. FOX19 crews sent a message to that email address and did not get a response. FOX19 also called the number listed on the letter. The phone rang once and then went to a recorded message that said "The number you are calling is busy, or out of service. Please dial again later."
Koors said she reported the scam to both the credit union and the United States Postal Service. Although she figured out it was a fraud, she said she could see how others could make the mistake.
"There's just so many things, so many things that people do to try to get money from you," said Koors. "Personally, I think they should just get a job."
Walmart's website indicates that Walmart does not work with any "mystery shopper" companies. It also states that scam artists use the shopper scams to try to steal people's identities or drain their bank accounts.
"I have never gotten a check like that, and I'm so glad I knew not to cash it," said Koors.
To protect yourself, Walmart's website says you should not respond to unsolicited letters or emails asking you to become a "secret shopper." The website also says you should never deposit a check that you randomly receive from a "mystery shopping" company.
If you believe you have been a victim of a shopping scam, Walmart's site has recommendations on what you can do:
"To report suspected wire transfer scams:
If you receive an email related to, or suspect you have been a victim of, a wire transfer scam such as the "mystery shopper," please fill out the online complaint form. You can also report the matter by calling 1-800-MONEYGRAM (1-800-666-3947) for English or 1-800-955-7777 for Spanish.
If you suspect you have received a fraudulent email claiming to be from Walmart, please send the email directly to Walmart at OnlineAbuse@walmart.com as an attachment. For investigatory purposes, please do not cut and paste the email into the body of the email or forward the email to us; instead, send the email as an attachment.
If you were a victim of fraud via the Internet, you should file a report with your local law enforcement agency along with the Internet Crime Complaint Center (ICCC). The ICCC is a partnership between the FBI and the National White Collar Crime Center. You can make a report with the ICCC."
Copyright 2019 WXIX. All rights reserved.
This article was originally posted at Fox19.com by Jessica Schmidt on April 20th, 2019.